Sponsored by


Puerto del Carmen Short Mat Bowls Club is welcoming The Almijara Bowls Club, Nerja on the 21st March for a week of fun and competitive bowling.
The format for the week is summarised as follows,
Monday            Roll Ups with Almijara
Tuesday            Competition Day with Almijara
Wednesday       Competition Day with Almijara
Thursday           Roll Ups (PDC members and visitors)
Friday               Roll Ups with BBQ and Presentation
Tuesdays competition report
Day one of our Almijara Bowls Club week was held in the lovely Lanzarote sunshine. Our visitors and opponents are Almijara Bowls Club from Nerja in Spain. The format was triples and pairs with more of the same again tomorrow. The whole of our clubs winter has been focused on this event, with our club competitions reflecting the pairs and triples format. Unlike the team from Nerja our team of bowlers are not entered into any leagues as we only have one club on the island. So there was a little concern that lack of external match practice may hinder our chances of an overall victory against a very competitive Nerja group . Well if today's performances are anything to go by we needn't have worried as the Club team came out 7-5 on the day. It's still all to play for tomorrow.
Fantastic support from all our members as those that haven't played have worked tirelessly to ensure the facilities have been up to a standard be fitting the event.
Just a tinge of sadness this morning as our Club President asked for a minutes silence for one of our long serving members Neil Thompson who sadly passed away suddenly last week. He would have been proud today that his beloved club stood proud against formidable opposition.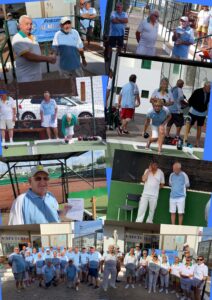 Wednesday competition report
Final day of the PDC v Almijara challenge match and with the score line finely balanced at 7-5 in favour of the home team after day one, it was all to play for.
Unlike Tuesday when it was wall to wall Lanzarote winter sunshine the weather gods decided to give the ex pats a little reminder of their homeland and why the majority had decided to move to warmer climes as the sweatshirts and waterproofs came out of the wardrobe.
However the odd shower couldn't dampen the competitors competitive desire to give their best for their respective teams.
The PDC team took an early lead in the morning session of games and never let their grip on the cup loosen as they dominated the day and eventually won a great comp by 15 points to 8 with one game tied. All the hard work and practice had paid off. With a special mention to Steve and Cath Winward who kept everyone updated with the minute by minute results.
Next year it's a return match in Nerja in mainland Spain and I'm sure the Almejira club will be looking to make sure the trophy finds a home in their clubhouse and doesn't make the return plane journey back to Puerto del Carmen.
It's the intention of both clubs to make the competition an annual event and I think it will certainly be the main focus of the PDC teams season.
A great event supported by excellent bowlers and lovely people.
Thanks to Kenny Baxter for the daily reports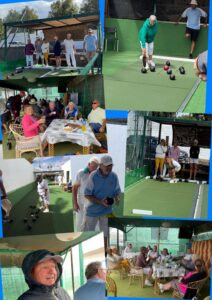 Friday Presentation and BBQ
Berwyn started by thanking ALL the Members that had contributed to making this week such a success. Los Roferos MatchPoint had been transformed for our visitors. In particular he gave a special thanks to Carol & Tony McDonald & Jeff Bannister for their efforts in keeping the mats in the cleanest possible condition. To Linda, Ian & Edric for team selection & Edric for arranging the playing format and order of play. Many thanks also to Steve Winward for all his hard work on the computer producing the stationery products, score cards etc. and the 'Big screen' results and printed results. To John Turner for securing the sponsorship from Lanzarote Investments & Brian Day for his efforts in making sure the maintenance was all carried out & his liaising with Horst on the food front.
Berwyn then thanked David Trippass and his Team for the excellent way they had taken part in the week & especially on the competition days. He said the 2 days competitive bowling had been enjoyed immensely by both teams & was carried out in the best possible manner, albeit in a very competitive way.
Berwyn told David that our visit to Nerja 2 years ago had been instrumental in helping us as a Club to make vast improvements, both in our facilities, and more importantly in our level of playing. He also thanked David for all the help & advice he had given him in the run up to our Club registration, this had been invaluable.
Finally, Berwyn said that none of our Members should be under any illusion that on our visit to Nerja next year, we shall have an easy time in defending the 'Trippas – Davies' trophy.
David Trippass replied saying that the whole of their group had had a most enjoyable visit to Lanzarote, both for the competitive bowling & roll-up days as well as an enjoyable & interesting Island tour taken by many of them on Thursday.
David then said you can be assured that when you next visit Nerja, you will most definitely find us eagerly waiting to relieve you of the trophy.
He said that as well as the friendly rivalry that was produced in the competitive bowling, a good many personal friendships had been established, with what he regarded as the most welcoming & friendly group of people.
It was then left to David to present the 'Trippass – Davies' trophy to Berwyn, on what he assured us was a temporary basis !!
Finally, 50 Members of the 2 Clubs enjoyed a wonderful afternoon of drinks and a superb 'Horst' Barbeque.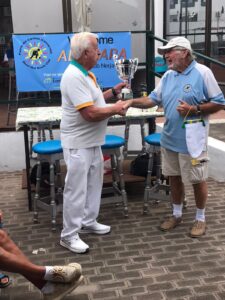 More photos on the Photo Gallery page