Saturday 30th April Competition
Saturday saw the weekend competition which comprised 16 players who were randomly drawn as Pairs with 2 leagues of 4 and the group winners playing in an 8 end final.
Jackie and Paul Cooper travelled up, for the 1st time in a while, to play in a competition. Whilst their attendance at competitions may be infrequent neither has lost their touch at bowls enabling their partners Tony C and Brian D to go through the 3 group matches with a 100% record.
In the Final Paul and Brian scored a 4 at the 1st end and it was a lead they were never to relinquish eventually winning the match 8-4. Well done to all.
Special thanks to Roger for stepping into play at next to no notice.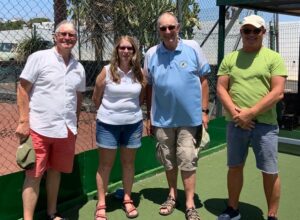 April Mid Week Pairs League
There was to be a tense and fitting conclusion to the April Pairs League with the result coming down to the final end of the final match on the final day.
Lying 1 shot down in the final end , Tony C and Mike needed at least a single to draw. A very good "under pressure" bowl with their last bowl of the match saw the necessary single shot delivered.
As a result 3 pairs concluded the League with 11 Points, Mike W & Tony C, Barbara & Brian and Berwyn & Steve, so the winners reverted to shot difference. The Winners were Tony C and Mike W on 33 shots.
Very well done to both.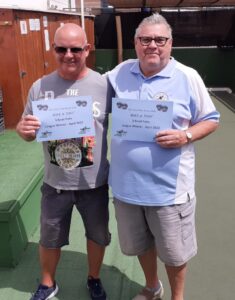 Saturday 16th April Competition
Saturday  saw  the latest of the 1 day competitions with 24 players participating. The teams were  randomly selected but could choose  their order of play. The format was 3 Bowl Triples, 2 groups of 4 with each team playing the 3 others in their group over 7 ends and the group winners contesting a final.
Quite unusually in the group matches no team won all their games and no teams lost all their games either so the Finalists were determined on shot difference. As it transpired the shot difference in each group was quite substantial and resulted in the Group A winners being Joyce, Sue and Tony McD whilst the Group B winners were Brian D, Ian M and Roger.
A closely contested final followed eventually being won 6-5 by Brian, Ian and Roger. Well done to all who participated.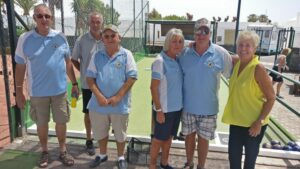 March Mid Week Pairs League
The pairs competition for March started well but ran into some minor issues towards the end. The final between League 1 and 2 is unlikely to get played so here are the results of each League.
League 1
It was a very close call between Ron & Beth and Paul S & Roger both teams won 5 games and lost 1. However, Ron & Beth won overall with 51 points against Paul S & Roger on 39 points.
League 2
The winners of this group were Barbara & Brian, they won 5 games and lost 1 with a total of 66 points overall.
Saturday 26th March Competition
The monthly competition was well attented with 24 members who had not played in the comp on the 12th being given the opportunity to play. 2 Groups played 3 wood triples over 6 ends. The winners of Group A were Steve W, Dave McD and Linda B, the winners of Group B were Karen, Lars and Edric. The final was played on Rink 4 over 6 ends with Edric, Karen and Lars winning 7 – 3.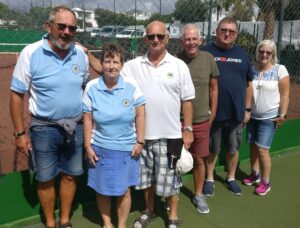 February Mid Week Pairs League
Thursday 24th saw the final round of matches in the February Pairs league and the matches provided a fitting finale.
In the 1st semi-final Barbara and Brian got off to a flying start and after 3 ends led 12-0. Despite a strong fight back Tony C and Mike W had given themselves slightly too much to do, eventually losing out 16 – 9. The 2nd semi-final saw Eileen and Edric play Jean and Mike T in what will be their last competition for a few months as all 4 return home later in March. Jean and Mike started strongly and after 3 ends led 4-0 however a 4 on the next end for Eileen and Edric was to prove a turning point as they went on to win14-8. And so to the final …
Similar to the semi-finals a strong start was made on this occasion by Eileen and Edric who after 4 ends led 10 – 0. A 5 and then a 2 at the next 2 ends seemed to offer a glimmer of hope to Barbara and Brian but the loss of a single then a 4 left the score after 8 ends 15 – 7. A fabulous comeback was then made by Barbara and Brian and having completed the regulation 12 ends the score was 15-15. As had been previously agreed in this scenario an extra "tie break" end was played and this was won by Eileen and Edric. A very exciting final!!
February 12th Competition
8 teams contested the Triples competition which comprised 2 leagues of 4 teams. Each team played the others in their group over 8 ends with the Winners of each group progressing to play a final.
Group A had clear winners with Beth H, Tony McD and Eileen winning all 3 of their matches.
Group B was very closely contested with 3 teams winning 2 games each. With 4 points each, even shot difference was extremely close with the 3 triples recording a shot difference of +8, +8 and +7.
Ultimately the finalists were decided on the number of shots scored and in this regard the highest shots were recorded by Jean T, Dave C and Mike T.
The final again played over 8 ends was a close match, coming down to the final with Jean, Dave and Mike emerging with a 6-5 victory. Well done to all who participated and to the winners on the day.
January Mid Week League
The 1st midweek Pairs League of the year saw Finals day played on the 28th.
They were fitting semi-finalists. The 3 group winners had won all 4 of their group matches and the best runner up had lost only 1 game and that by a single shot.
2 semi finals played on Rinks 2 and 3 and resulted in the following –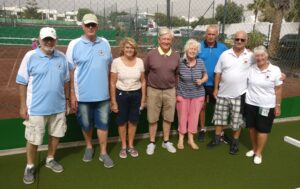 Barbara, Brian 6-14 Eileen, Edric
Jean, Mike 10-9 Berwyn, Ian
The final played on Rink 4 was to see a repeat of an earlier League match but this time the result was reversed with Mike and Jean beating Eileen and Edric by 9-6.