Michael Curley Trophy 28th January 2023
This was held on Saturday between the Swallows and the Residents of Lanzarote. The Swallows were organised by Edric and the Residents by Berwyn. The final scores resulted in the Swallows winning by 15 to 9. The Trophy was presented to Edric by the president Berwyn.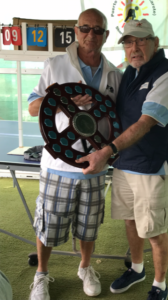 Ladder Competition July – September 2022
Wednesday 5th October concluded the late summer Pairs Ladder. The final standings, after 12 rounds, are as follows:-
1    Berwyn & Ian         
2    Sharon & Keith
3    Steve & Frank
4    Barbara & Brian
5    Wendy & Eddie
6    Dave McD & Paul S
7    Linda & Roger
8    Tony McD & Jeff
9    Tony C & Mike W
10    Catherine & Paul JC
11    Jackie C & Paul C
12    Karen & Mo
Contratulations to Berwyn and Ian
Thank you to all who have participated in what was an enjoyable series of matches.
Saturday 24th September Competition 2022
The latest end of month competition was an unusual, but nonetheless enjoyable one, played under very un-Lanzarote weather conditions. With a very light 'mizzle' present for the whole of the 3 hours, we were lucky that it never became heavy enough to warrant any breaks or delays in the play.
With 24 Members entered, which included our newest Member, who only joined on the 23rd and is unusual in two ways in as much as he is a local Canarian AND is about half the age of our next youngest Member.! The format was essentially a 'no winner' one. There were 8 triples split into 2 groups of 4. Each of the teams in each group played each team in the other group. Surprisingly, no team managed a clean sweep of wins, the best performance being 2 wins, 1 draw & 1 loss by 2 teams both in group B. When the final results were scrutinised, it turned out to be a draw 16 – 16. So Julie, Gary & Barbara and Jill, Pat & Steve Williams finished the day at the top.  
The next competition will now be at the end of October, after our (hopefully victorious) return from Nerja.
Saturday 30th July Competition 2022
This last competition of the month was a 3 wood triples contest. 6 teams player in 2 groups with the winners of group A being Brian, Tony Cox and Gary. The winners of group B were Jill, Linda and Mike W. These 2 then played a final with Brian, Tony and Gary taking the overall win. A very enjoyable morning was had by all.
Saturday 15th July Competition 2022
The competition this  weekend consisted  of 2 leagues  of 3 Triples. Each played the other 2 teams in their leagues and to provide a final round of matches the league winners, runners up and 3rd placed played their counterparts from the opposite league.
The 2 leagues were headed by Triples who had won their 2 matches – Martine, Paul K and Ian winning 1 league and Jill, Jackie and Mike W the other.
The final match proved a one-sided affair with Jill, Jackie and Mike W emerging as convincing winners.
Congratulations to them and particularly Jill, a relatively new member, playing in her 1st competition and playing a strong Lead to what on the day was a very solid team. 
242 Ladder competition May-June 2022
Wednesday 29 June saw the 9th and final round of the 242 Ladder which had ran over the past 2 months.
The results of  the final round of matches and  the final ladder positions are shown below.
It was perhaps fitting that the determination of the overall ladder winner came down to the last  bowl of the last end. Needing to win the match to replace Berwyn & Ian at the top of the  ladder, Barbara & Brian were 8-7 down and with only the final bowl to play, lay 1 shot down. Whilst chances did not look bright its often helpful to have an excellent bowler with the final wood.
Surely enough a quite superb shot from Barbara chapped opposing front bowls onto the Jack which sprung  through to a gleefully awaiting 3 bowls just behind the jack. An excellent shot to finish what had been a very, very good contest.
A fantastic end to what (its hoped) was an enjoyable 9 weeks of bowls.
Congratulations to Barbara & Brian and thanks to all who competed in and hopefully enjoyed the competition.
Barbara & Brian beat Berwyn & Ian
Tony & Mike W beat Wendy & Eddie
Sharon & Keith beat Catherine & Paul JC
Martine & Tony McD beat Mags & Pat
2-4-2 Pairs Ladder, May – June 2022
 
 
 
 
 
 
Final Standing after 9 Rounds
 
 
 
 
 
 
1
Barbara & Brian
 
 
2
Berwyn & Ian
 
 
3
Tony C & Mike W
 
 
4
Wendy & Eddie
 
 
5
Sharon & Keith
 
 
6
Catherine & Paul JC
 
7
Martine & Tony McD
 
8
Mags & Pat
Saturday 11th June Competition 2022
With fewer members on the island, there were just 10 entrants to the day.
5 Pairs were randomly drawn and played each other pair over 7 ends in the 3 Bowl Pairs format.
A late withdrawal left Barbara looking for a new partner. Wendy stood in for 2 of the 4 games in the expectation they would win their games. Sadly and happily for Ian and Berwyn they did not. The next 2 games were played with Derek who the club were delighted to welcome back with his wife (and former Club Secretary) Irene Berry. Lovely to see them both.
Given the improving standards, no team lost all matches and no team won all matches. That said, the only team to win 3 of the 4 games and so the winners on the day –
Berwyn and Ian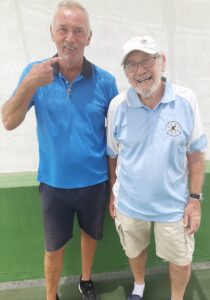 Saturday 28th May Competition 2022
On Saturday we had 18 players entered to play in the competition.
It was agreed the format would be 3 bowl Triples and that each team would play the 5 others over 5 ends. This designed to try to manage timescales.
As fate would have it, come the 5th and final round of matches, there were 2 teams who had won each of their 4 games. Tony C, Brian and Barbara along with Wendy, Berwyn and Ian.
The former were to prevail, winning the final match 5-2.
Well done to the winners and the others who took part.
Saturday 30th April Competition
Saturday saw the weekend competition which comprised 16 players who were randomly drawn as Pairs with 2 leagues of 4 and the group winners playing in an 8 end final.
Jackie and Paul Cooper travelled up, for the 1st time in a while, to play in a competition. Whilst their attendance at competitions may be infrequent neither has lost their touch at bowls enabling their partners Tony C and Brian D to go through the 3 group matches with a 100% record.
In the Final Paul and Brian scored a 4 at the 1st end and it was a lead they were never to relinquish eventually winning the match 8-4. Well done to all.
Special thanks to Roger for stepping into play at next to no notice.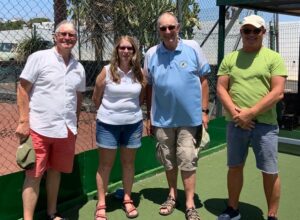 April Mid Week Pairs League
There was to be a tense and fitting conclusion to the April Pairs League with the result coming down to the final end of the final match on the final day.
Lying 1 shot down in the final end , Tony C and Mike needed at least a single to draw. A very good "under pressure" bowl with their last bowl of the match saw the necessary single shot delivered.
As a result 3 pairs concluded the League with 11 Points, Mike W & Tony C, Barbara & Brian and Berwyn & Steve, so the winners reverted to shot difference. The Winners were Tony C and Mike W on 33 shots.
Very well done to both.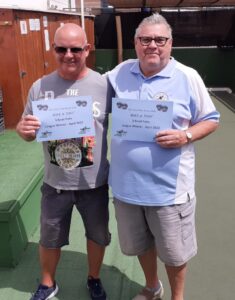 Saturday 16th April Competition
Saturday  saw  the latest of the 1 day competitions with 24 players participating. The teams were  randomly selected but could choose  their order of play. The format was 3 Bowl Triples, 2 groups of 4 with each team playing the 3 others in their group over 7 ends and the group winners contesting a final.
Quite unusually in the group matches no team won all their games and no teams lost all their games either so the Finalists were determined on shot difference. As it transpired the shot difference in each group was quite substantial and resulted in the Group A winners being Joyce, Sue and Tony McD whilst the Group B winners were Brian D, Ian M and Roger.
A closely contested final followed eventually being won 6-5 by Brian, Ian and Roger. Well done to all who participated.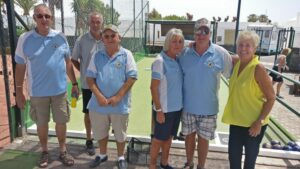 March Mid Week Pairs League
The pairs competition for March started well but ran into some minor issues towards the end. The final between League 1 and 2 is unlikely to get played so here are the results of each League.
League 1
It was a very close call between Ron & Beth and Paul S & Roger both teams won 5 games and lost 1. However, Ron & Beth won overall with 51 points against Paul S & Roger on 39 points.
League 2
The winners of this group were Barbara & Brian, they won 5 games and lost 1 with a total of 66 points overall.
Saturday 26th March Competition
The monthly competition was well attented with 24 members who had not played in the comp on the 12th being given the opportunity to play. 2 Groups played 3 wood triples over 6 ends. The winners of Group A were Steve W, Dave McD and Linda B, the winners of Group B were Karen, Lars and Edric. The final was played on Rink 4 over 6 ends with Edric, Karen and Lars winning 7 – 3.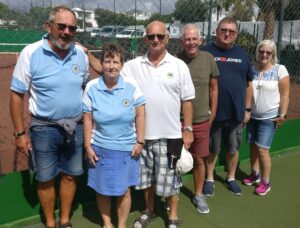 February Mid Week Pairs League
Thursday 24th saw the final round of matches in the February Pairs league and the matches provided a fitting finale.
In the 1st semi-final Barbara and Brian got off to a flying start and after 3 ends led 12-0. Despite a strong fight back Tony C and Mike W had given themselves slightly too much to do, eventually losing out 16 – 9. The 2nd semi-final saw Eileen and Edric play Jean and Mike T in what will be their last competition for a few months as all 4 return home later in March. Jean and Mike started strongly and after 3 ends led 4-0 however a 4 on the next end for Eileen and Edric was to prove a turning point as they went on to win14-8. And so to the final …
Similar to the semi-finals a strong start was made on this occasion by Eileen and Edric who after 4 ends led 10 – 0. A 5 and then a 2 at the next 2 ends seemed to offer a glimmer of hope to Barbara and Brian but the loss of a single then a 4 left the score after 8 ends 15 – 7. A fabulous comeback was then made by Barbara and Brian and having completed the regulation 12 ends the score was 15-15. As had been previously agreed in this scenario an extra "tie break" end was played and this was won by Eileen and Edric. A very exciting final!!
February 12th Competition
8 teams contested the Triples competition which comprised 2 leagues of 4 teams. Each team played the others in their group over 8 ends with the Winners of each group progressing to play a final.
Group A had clear winners with Beth H, Tony McD and Eileen winning all 3 of their matches.
Group B was very closely contested with 3 teams winning 2 games each. With 4 points each, even shot difference was extremely close with the 3 triples recording a shot difference of +8, +8 and +7.
Ultimately the finalists were decided on the number of shots scored and in this regard the highest shots were recorded by Jean T, Dave C and Mike T.
The final again played over 8 ends was a close match, coming down to the final with Jean, Dave and Mike emerging with a 6-5 victory. Well done to all who participated and to the winners on the day.
January Mid Week League
The 1st midweek Pairs League of the year saw Finals day played on the 28th.
They were fitting semi-finalists. The 3 group winners had won all 4 of their group matches and the best runner up had lost only 1 game and that by a single shot.
2 semi finals played on Rinks 2 and 3 and resulted in the following –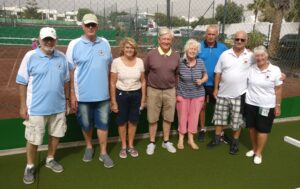 Barbara, Brian 6-14 Eileen, Edric
Jean, Mike 10-9 Berwyn, Ian
The final played on Rink 4 was to see a repeat of an earlier League match but this time the result was reversed with Mike and Jean beating Eileen and Edric by 9-6.