The address of the Club is:-
Club de Tennis Match Point
Calle los Roferos
Puerto del Carmen
The club has a café with bar and snacks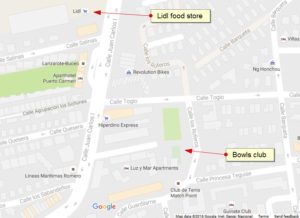 CURRENTLY THE BOWLING FACILITIES ARE ONLY AVAILABLE TO MEMBERS.
Bowling sessions take place from 9.30am Monday to Friday but members can also bowls on Saturday's and Sunday's if they wish to. Afternoon sessions also are available for new members.
Due to Covid restrictions, all rinks need to be booked through the Secretary or President.